Interview|Michael Mack
As part of the Hariban Award 2022 programme, we interviewed one of this year's Juror's Michael Mack, Director and Founder of the London based publishing house MACK
Could you share with us some of your earliest experiences with art and specifically photography? What initially motivated you to pursue a career in the arts industry?
Michael Mack (MM): I had no formal or early familial connections to the art world. I trained as a lawyer and worked as a lawyer briefly in the City of London. I was determined to get as far away from that form of work as quickly as I could. I always had an interest in photography and the arts and decided to retrain and move into a space that could provide more personal fulfilment.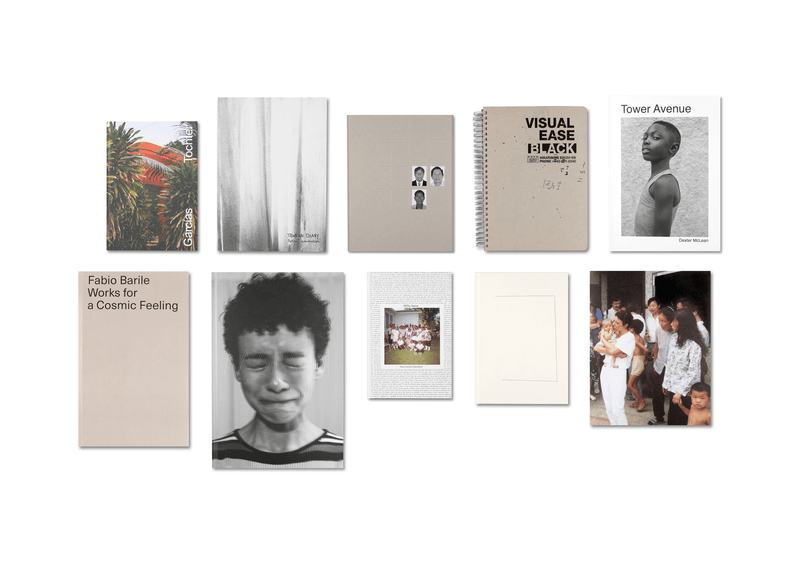 Mack First Book Award
Image © MACK
We'd like to highlight MACK's engagement and support of the artistic careers of young artists. In particular, with the Mack First Book Award which began in 2012 and came to a close in its current format last year. Could you reflect on what motivated you to initiate the award, share a key learning experience from the period, and if possible offer a glimpse into your new programme supporting books by emerging artists?
MM: Our First Book Award was launched to provide support at a very particular juncture for emerging artists who did not have the support to publish their own book, and to allow greater and more detailed exploration of the book form as a medium.
We closed it after ten years as a consequence of the massive shift in the photobook publishing realm. At the moment, it is a little overwhelmed by awards and by many publishers, as well as a great deal of self-publishing. Instead, we shifted to support research-based scholarship, such as our annual research fellowship, providing funds for research in cultural histories that have been unexplored in the intersection of art, photography, and literature. 
However, our publishing will always include a significant element of support of the work of emerging and young artists, who we continue to publish regularly.
Collaborative processes offer the chance for something new and exciting to happen. Could you share with us your thoughts on collaboration, its value in relation to the ways in which you/MACK approach your work and your thoughts in relation to printmaking and what the Hariban Award offers?
MM:
Collaboration is very much at the heart of the process I believe in and is the best part of MACK publishing. Very rarely do projects come to us perfectly formed, and I think it is above all the editorial, design, and production process and engagement we can offer. Taking all our expertise and experience and aligning that with the strong ideas of a powerful artist produces the very best books. That collaboration is the most fundamental and enjoyable part of the process. The rest is just business. 
The Hariban Award similarly provides an unrivalled opportunity for an artist to explore a space in printmaking, which doesn't exist in any other atelier in the world. It is a wonderful, inspiring and unique possibility. 
Thought Pieces presented by MACK
Image © MACK
It's been incredibly exciting and inspiring to see the growth in ways in which audiences are able to engage with the titles produced by MACK. Through Thought Pieces, Mack Live, making available critical texts and insightful conversations on the Blog. All provide more possibilities for audiences to experience and learn more about both the artist's and MACK's work. With this in mind, could you share with us your thoughts on connection and community, reflect on how/if this has evolved since the start of your imprint, and your hopes on how MACK as a platform will grow in future?
MM: The pandemic forced us to re-engineer our entire platform. We effectively moved forward in three months in ways we had hoped to do in three years because we realised immediately that if we wanted to reach an audience in the absence of live, in-person engagement, we would have to do it through our digital platform. 
It was a wonderful opportunity to think about what we are and to work on producing entirely new content for our audiences. The most exciting part of this is that it has led us to think about new and different communities, as well as a desire to engage widely in these other spaces. For example, we're now publishing a list of architecture titles, as well as titles relating to film, literature, and critical theory. Our platform has become much more grounded in a broad base of arts and culture, as well as issues relating to politics. 
Publishing is about community because it's about audiences. Community is fundamental to everything we do. 
Lastly, could you share some advice to artists thinking about entering the Hariban Award this year
MM:
The possibilities of form and medium are endless. Never limit yourself. 
Subscribe to MACK's Youtube Channel for special interviews and insights from both publisher, artist and special contributors
Video © MACK
HARIBAN AWARD 2022 審査員マイケル・マック インタビュー
HARIBAN AWARD 2022プログラムの一環として、今年の審査員の一人である、出版社MACK ディレクターマイケル・マック氏にインタビューをおこないました。MACKにおける作家や読者に対する考え方と取り組み、またHARIBAN AWARDについてお話しいただきました。
アート、特に写真に関する初期の経験を教えてください。また、アートや写真の分野でキャリアを積もうと思ったきっかけは何ですか?
MM:私は、アートの世界とはほとんど関係はありませんでした。もともと弁護士を目指していて、ロンドンで短期間弁護士として働きましたが、そのような仕事からできるだけ早く離れようと心に決めていました。写真とアートにはずっと興味があり、もう一度学び直して自分がより充実感が得られるところに身を置くことにしたというわけです。
Mack First Book Award
Video © MACK
MACKが若いアーティストたちのキャリアに関与しながらサポートしていることについて質問したいと思います。特に2012年に始まり、昨年終わりを迎えた「マック・ファースト・ブック・アワード」についてですが、あのアワードを立ち上げたきっかけや、アワードの期間中に学んだこと、そして可能であれば、新進アーティストたちの作品集を支援する新しいプログラムについても教えてください。
MM:我々の「ファースト・ブック・アワード」は、自らの本を出版するために必要なサポートを持たない新進アーティストに対して、丁度良い頃合いでのサポートをおこない本というメディアをより深く探求できるようにするためスタートさせました。
写真集出版の領域が著しく変化したこともあり、10年を区切りにこのアワードを終わりにしました。現在は、賞や多くの出版社、また多くのセルフパブリッシングがありすぎて、少しばかり戸惑いをおぼえているほどです。その代わり、毎年開催しているリサーチ・フェローシップのように、アート、写真、文学が交差する中で、これまで手付かずだった文化史の研究に資金を提供するなど、研究ベースの奨学金支援にシフトしています。
しかし、私たちの出版は、常に新進気鋭の若手アーティストの作品を支援するという重要な要素を含んでおり、今後も定期的に出版を続けていきます。
コラボレーションのプロセスは、何か新しいことやエキサイティングなことが起こるチャンスを与えてくれます。コラボレーションについて、また、あなたの作品への取り組み方やプリント制作に関する考え、そしてハリバン・アワードが提示できることなどについて、考えを聞かせてください。
MM:コラボレーションは、私が信じるプロセスの軸であり、MACK出版のもっとも良い部分でもあります。私たちが提供できるものとは、編集、デザイン、制作のプロセスや関わり方だと思います。我々の専門知識と経験をすべて注ぎ込み、力のあるアーティストが持つ確かなアイデアと融合させることで、最高の本が生まれると信じています。コラボレーションこそがプロセスの最も基本的なものであり、楽しい部分です。それ以外のものは、単なるビジネスに過ぎません。
ハリバン・アワードにしても、世界のどのアトリエにもないような、新しいプリント制作の可能性を探求する比類ない機会をアーティストに提供してくれると思いますし、それは素晴らしく、刺激的で、ユニークな可能性だと思います。
Subscribe to MACK's Youtube Channel for interviews and insights from both publisher, artist and special contributors
Video © MACK
MACKの手がけた本に対して読者の関わり方が広がっていくことは、とても刺激的で胸が躍ります。例えばMACKは、Thought PiecesやMack Liveを通じて、評論や洞察に満ちた対話をBlog上で公開しています。これらの活動は、観客がアーティストとMACKの作品を体験し、より深く知るための多くの可能性を提供するものです。これを踏まえて、読者とのつながりやコミュニティについての考え、出版をスタートさせた当時からどのように進化してきたか教えてください。また、プラットフォームとしてのMACKが今後どのように成長していくかについて、あなたの期待などがあれば聞かせてください。
MM:パンデミックが私たちにプラットフォーム全体の再構築を余儀なくさせたと言えます。というのも、ライブで直接観客と触れ合うことができない場合、デジタル・プラットフォームを通じて読者にアプローチしなければならないと即座に認識したからです。
この期間は、私たちのあり方について考え、読者のためにまったく新しいコンテンツを制作する素晴らしい機会でした。その中でもっとも刺激的だったのは、新しい別のコミュニティについて考えるようになったこと、そしてそのような別のスペースに広く関わっていきたいという願望が生まれたことです。例えば現在、建築や映画、文学、批評理論に関する出版のリストを公開し始めています。私たちのプラットフォームは、芸術や文化、そして政治に関する問題など、より幅広いエリアを考察するようになりました。
なぜなら出版とはコミュニティであり、それは読者に関わるものだからです。コミュニティこそが私たちが行うすべての基本となっているわけです。
最後に、今年のハリバン・アワードへの応募を考えているアーティストにアドバイスをお願いします。
MM:スタイルや手法の可能性は無限です。決して自分の限界を制限しないでください。